Globalisation
For many companies globalisation is essential, not an option. It is a risky business, with you and your competitors looking at the same markets, resources and opportunities. The strategy - the 'what, where and why' is rarely in doubt. Success in globalisation is all about 'how'.
So, as you look to deliver your next phase of growth, we want to work with you to help you focus on the 'how' and compete more successfully against your peers. We're experienced in working with business leaders on their global growth plans and we'll share with you our insights and practical advice on the key strategic issues that matter to you.
We've developed a practical framework - the Globalisation Maturity Model - to help senior executives navigate the complexity of globalisation and to guide them in their investment and execution efforts. This framework builds on the real-life experiences of leading international companies and incorporates the latest data and insights from some 1,250 CEOs.
Our Globalisation Diagnostic, underpinned by the Globalisation Maturity Model, gives you a quick and easy way to connect with our industry, territory and functional expertise and insights from across the PwC network.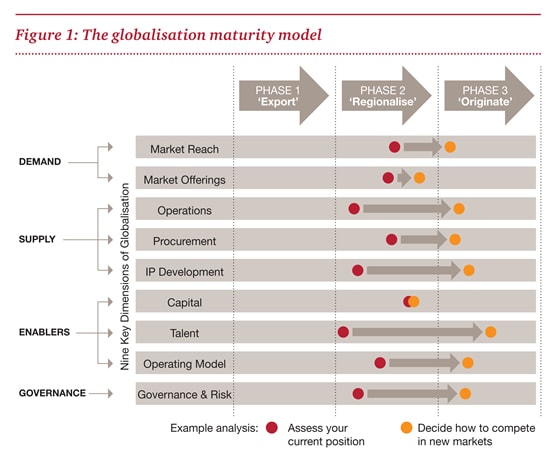 We'll help you:
Understand the relative strengths and weakness of your current globalisation strategy compared to your industry peers and leading practices
Identify the right priorities for you and your team to deploy across business units, functions and respective geographies
....and successfully deliver these priorities in key markets
Globalisation research & insights
Continue the conversation
Partner

Tel: +44 (0) 7802 244 741