Global capex levels in the telecommunications industry have soared from $50 billion to $325 billion, in real terms, over the last thirty years.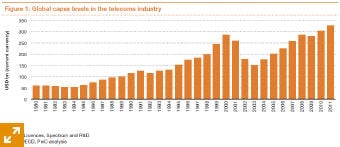 PwC analysed the financial performance of 78 fixed-line, mobile and cable telecoms operators around the world. We supplemented this work with a qualitative survey of 22 senior telecoms executives from a representative cross-section of companies in terms of size, services, location and financial performance. Many of our survey respondents admitted that they are aware of their capex problem (and could waste as

 much as $65 billion per year). They also admitted they are unsure of how to solve their capex problems.
This paper explains the four key reasons telecom companies allocate capital inefficiently. It identifies 12 shared attributes of a well-designed capital management programme and is applicable to any type of organisation: fixed, mobile or cable, whether a new entrant to the market or an established major telecoms operator. Then we pose these questions to help you to think through your capex problem, and possible solutions:
Your peers are misallocating about 20% of their annual capex. Do you suspect the amount of capex you misallocate is much different? How much recycled capex would that represent to your business?
What 'big bets', such as 3G, LTE or NGA, is your business currently struggling to fund? Would reallocating business-as-usual capex help much?
Are your colleagues in Marketing, IT, Networks or Finance frustrated with how your company's capex is allocated, how that capex is controlled or the performance it delivers?
Are you confident you know enough yet about best practice at other operators?
Do you have the independence and credibility to push through the necessary changes and make them stick?