New metrics for a changing industry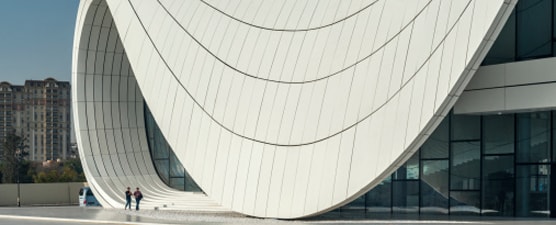 The mobile industry is in the midst of a major paradigm shift. Customers are demanding voice services less and data services more, and the transition appears rapid. Smartphone sales are on the rise with global sales expected to increase from 1 billion in 2013 to 1.7 billion[1] in 2017 growing at 18.4% CAGR. It is projected that 15% of the smartphone sales in 2013 were due to new subscribers but by 2017 it will be less than 5%. The demand for the data network is growing as well; 20 exabyte of data transferred in 2013 is set to explode to 132 exabyte of data in 2017 at 66% CAGR[2]. Those trends (see Figure 1) suggest that the wireless industry - viewed purely from the perspective of the subscriber base - is stagnating but that the demand for smart devices and data network usage are rising significantly.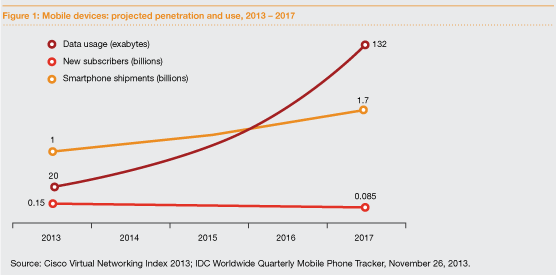 When mobile services were launched, voice was the primary service offered. Per-user metrics, such as average revenue per user (ARPU), churn rates and net additions, have existed since the beginning. A per-user view of an operator's customer base was relevant when voice was the main service and when each customer owned a single mobile device. Mobile services have been evolving, and now customers own multiple types of smart devices (phones, tablets) and use a variety of services (see Figure 2). Without the full picture of how their customers use their devices and services, operators can't rely on per-user metrics as a measure of their success in meeting business goals.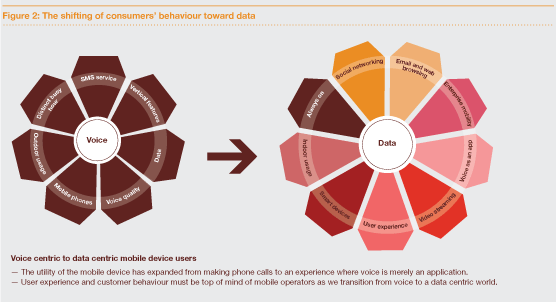 Making the case for new metrics
When voice was the primary service offered and each user had a single device, a per-user view was enough for operators to measure profitability and customer loyalty. The customer base was segmented primarily on the basis of subscribing to prepaid or to postpaid plans. When data networks were launched, operators focused on moving more of their customers to data plans and started measuring profitability based on data as opposed to voice ARPUs. But service quality still remained more at the network level than at the application level.
As the market for voice services becomes increasingly irrelevant, new metrics are needed to evaluate every aspect of an operator's business, from acquiring customers to everyday operations.
Customer acquisition
In a world focused on data, what consumers demand will vary based on the services offered and so will how they expect to experience the services. Adding a per-usage perspective to segment the customer base will help operators determine customer demand. Operators also will be able to provide high-quality service based on applications customers commonly use as well as to identify other services they potentially can sell to customers.
Typically, operators have used their customer count and their service penetration by quarterly net additions to identify their market share. When they launch a new service, such as 3G/4G data, operators closely monitor its rate of adoption. But emerging trends - such as connected devices, M2M communication and enterprise mobility - are becoming an integral part of an operator's service portfolio.
Specifically, for enterprise mobility applications, according to Ovum, the penetration of wireless data among business users will reach 80% by 2015. Mobility has become an IT function and will dictate its own policies and rules. Operators around the world are developing platforms and fostering alliances with industry partners to build an ecosystem through which to introduce new services. And that will require a shift in operators' business models - from pure connectivity revenues towards transaction fees, vertical applications and even revenue sharing. So the metrics will need to evolve and will have to be different, for example, for enterprise and for retail customers based on their usage trends.
Service delivery
The quality of a mobile network has always been measured at the network level. Such metrics as voice quality, data throughput or dropped-call rate have been aggregated and reported for the entire network. That works fine when the number and types of services being offered are limited and the service quality customers want is comparable. But in the present world, customers are accessing multiple applications with varying quality-of-service demands. Before 4G networks, voice services and data services were delineated clearly. But with the introduction of voice over LTE (VoLTE), voice and data will be identical from a network point of view. Hence the need to measure quality of service by the application and by the type of service.
Business results
Operators typically have tracked their profitability by the metric ARPU, which is a monthly measure of revenues attributable to designated services on a per-user basis. They've used various flavours of ARPU - data vs. voice and postpaid vs. prepaid - based on the designated service and the customer segment.
But the emergence of prepaid and shared data plans has enforced a different business relationship between the user and the operator. Shared data plans include multiple devices, and that's made subscriber growth challenging to track. Each device may have its own data plan and pricing model. The preference of the individual data user remains hidden because the operator looks at the user as a single, discrete relationship. When the user no longer has the burden of a long-term relationship with the operator, the operator can't see the customer's usage patterns and mobility habits. The operator that focuses on data plans as a way to differentiate its services will find itself with diminishing returns.
When an operator has a one-dimensional view of its customers, which is to make sure users are sticking to their allotted data 'buckets', selling them additional services as a way of increasing profitability gets more difficult. Data ARPUs, then, are becoming increasingly unreliable indicators of profitability. That's creating a need for a new way to capture the profitability of data services based on how the industry is positioned to evolve.
Because of the trend toward multiple devices per customer account, some operators are already beginning to measure revenues with a new metric, average revenue per account.