Technology
of technology CEOs say they are strengthening their engagement programme with customers and clients.
Technology CEOs accelerating growth through a sharper focus on customers and innovation
Interested in more?
Use the data explorer to browse through additional industry data.
Launch the data explorer
Technology CEOs have a high degree of confidence in their ability to grow —84% expect revenue growth to accelerate in the next year.
Primary driver of growth – New products and services
While stepping up their focus on acquisitions and joint ventures, technology CEOs continue to view new products and services (37%) as the primary driver of growth in their business.
Top investment priorities - Customer growth, R&D and innovation
Customer growth (61%) and investing in R&D and innovation (48%) remain top investment priorities. In pursuit of new customers, 84% of technology companies are enhancing their focus on social media.
Global expansion opportunities
Technology CEOs continue to view Latin America (83%), South East Asia (76%) and North America (70%) as the key regions for expanding their global operations. China tops the list of countries with the highest new revenue opportunities, though China's attraction seems to be declining year over year.
Employment growth
In line with their peers across industries, 44% of Technology CEOs expect to increase headcount, and just 16% expect to decrease headcount in contrast to 23% across all industries.
Potential threats
Disruptions caused by technological changes (57%), new market entrants (48%) and shifting consumer spending and behaviour (47%) top the list of market threats to growth. Technology CEOs view prevailing economic uncertainty (87%) and the government response to fiscal deficits (62%) as the biggest risks to growth.
CEO interview quotes
These interviews contain the opinions and views of the CEOs interviewed, and do not necessarily represent the opinions and views of PwC.
Download

Key findings in the technology industry - A CEO Survey infographic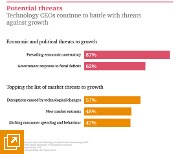 Technology CEO interviews