Early PwC International Challenge (EPIC)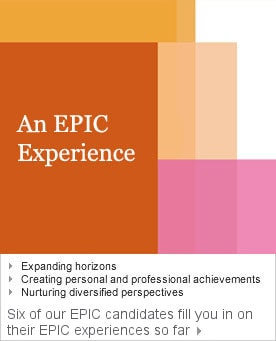 The route to a fulfilling career
You want to develop language skills, enjoy the taste of exotic cultures or experience life in a new dynamic city. Maybe you want to see how businesses operate in a different country. And are you hungry to develop the skill sets that will provide a passport to superb career opportunities in a truly global network?
Whatever your motivation, EPIC allows you to earn and seize the opportunity to work abroad, much earlier in your career than you might expect. Not only will you make new friends and enjoy new life challenges, you'll work with a challenging variety of clients and build lasting professional and personal relationships.
Typically, you'd depart for your chosen destination around three to four years after joining us, with your EPIC assignment lasting two years.

Global locations, global choices 
A host of exciting destinations await in major established economic centres and key developing global markets. Highlighted below are just some of those destinations:
Australia
Austria
Belgium
Bermuda
Canada
China
Czech Republic
France
Germany
Hong Kong
Hungary
India
Ireland
Italy
Korea
Luxembourg
Malaysia
Malta
Mexico
Middle East
Netherlands
New Zealand
Norway
Poland
Russia
Singapore
South Africa
Spain
Sweden
Switzerland
Turkey
United Kingdom
USA
You will engage in dialogue, that will help you decide which town or city most interests you, and where your contribution would best fit the needs of our business. We'll then prepare you for your assignment through mentoring, skill development and training.
Advantage: Your career 
Your assignment abroad should generate lasting personal and professional rewards. Below are some of the advantages existing assignees said they have gained from going on an international assignment:
Accelerated career progression
Deeper personal development
Improved skills and expertise
Greater cultural awareness
Better understanding of international differences
Broader and closer global networks
Long-term friendships
Increased confidence in overcoming challenges
Enhanced creativity through exposure to new ideas
Rewards and benefits 
In order to minimise logistical, financial and other practical concerns, your international assignment package could include the following:
Host-based compensation determined by local market rates
Assistance with immigration and compliance requirements
Reimbursement for the shipping of personal effects
Reimbursement for relocation travel costs for you and your accompanying dependents
Temporary living for you and those dependents
One home leave per assignment year for you and your accompanying dependents
Language and intercultural training (where required)
The people we need 
International assignments present an exciting prospect—but they're also challenging. EPIC assignments are open to PwC people who have demonstrated excellent performance, along with the desire and commitment to gain international experience early in their career.
You can achieve what you want—in your life and in your work. So, make your career choice EPIC.
Next steps 
Train with PwC. Visit our careers page where you can explore graduate opportunities in locations across the globe. Find your location and find out what you need to do to apply to a PwC campus recruitment programme. EPIC is just one of the exciting opportunities available to successful applicants.