ACCA
Why choose the ACCA qualification?
Holding the ACCA qualification sends a clear message to both your employers and colleagues – you are committed to the highest standards of service and professional ethics. Therefore, the qualification will help you achieve faster career development. 
The ACCA qualification is recognised globally.
As part of your ACCA studies, you will learn to understand and master all the processes involved in how a business or financial organisation works. This means that the ACCA program is not just for accountants. Members have the knowledge and skills needed to succeed in other areas such as business consulting, taxation, IT, strategic planning and general management.
Why study for the ACCA qualification with PwC's Academy?  
Extensive experience in delivering the ACCA courses across a number of regions has enabled the Academy to develop an effective study program in response to both the students' needs and the employers' requirements. 
Learn from our tutors - PwC professionals;
Achieve the best results with our unique study program ACCA Advantage;
Receive support for your studies from our dedicated and experienced coordinators.
 Our commitment to the quality of the courses, study materials and student support is demonstrated best by the results of our students who have been constantly achieving above-average pass rates across the regions.
 The Academy will cover your initial (student) registration fees (GBP 79) - please consult with us before you register yourself on ACCA site as a student.
PwC Georgia Academy students pass rate is 72% on average.
Training Exam dates and fees: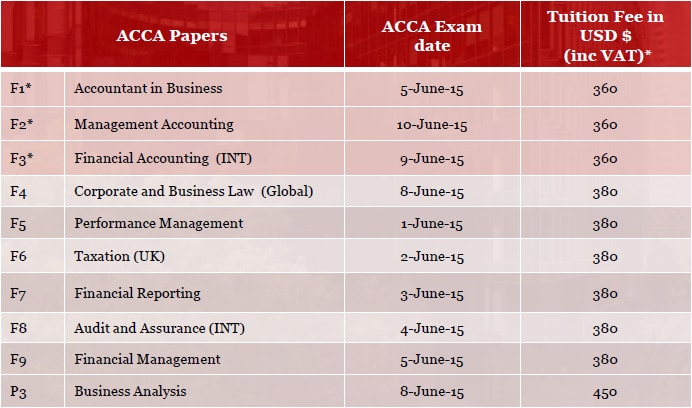 Training fees include VAT, textbooks & other training materials.
All trainings are after working hours except week-ends.
The sessions will start on 9 March 2015.
Detailed scheduled of sessions will be announced after completing groups by 2 March 2015.
Language:   English
Venue:         PwC Academy   Training Center
Address:     # 7 Bambis Rigi Street
How to register for PwC Georgia Academy ACCA training?
In order to register for the seminar please fill-out and submit online registration form at 
Online Registration  latest by 2 March 2015. However, you are encouraged to register as early as possible in order to take advantage of the early registration discount outlined above.
Upon early registration 10% discount will be provided         
Early registration deadline 16 February 2015                          
Discounts are also available for the following groups:
Students of accredited Georgian universities – 25% (proof to be provided).
Members of registered associations of accountants, economists and lawyers – 20% (proof to be provided)
Please note that discounts are not additive. If a student is eligible for several discounts, single largest discount will be applied.
Upon registration invoice for training fee will issued to student.
If sufficient number of students does not register for a particular course, we reserve the right to annul the course at our discretion and refund already registered students in full.
PwC Georgia Academy does NOT provide administrative support in ACCA initial and exam registration. Training fees do NOT include ACCA initial and exam registration fees (as well as any other fee directly payable to ACCA):


For more details please visit: www.accaglobal.com or see the attached booklet.
For more information, please contact:
Irma Gogotishvili, Administrative support,
at: irma.gogotishvili@ge.pwc.com,  +995 577 422209;
Nino Kadagishvili, ACCA Program Manager,
at:
nino.kadagishvili@ge.pwc.com,  +995 577 592295.