We strive to reduce our carbon footprint.
We regularly adjust our processes so as to improve and extend our environmental soundness. This aim also underlies our investments in technology innovations, particularly within our new office building. We have thus managed to reduce our carbon footprint per employee by 50% since 2009. For more information, please read the Corporate Responsibility Report*.
We engage in cleaning forests and nature we live in - Green volunteering
We like to connect more things at once to give them an even more meaningful purpose. That is why our team-building activities often include helping nature. You can find out more in our CSR report*.

368 hours spent volunteering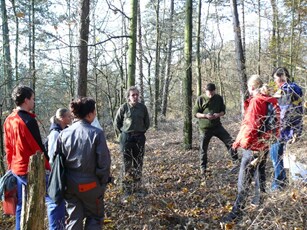 We bear environment protection in mind in our everyday life and work
One of our priorities is to educate our employees about the importance of being considerate towards the environment and acting accordingly. That is why every year we organise the Green days informational campaign, where we inform employees about energy usage in our headquarters and recycling, and encourage them towards a more sustainable lifestyle.


Printing

Our work requires that a lot of documents be printed. We support double-sided printing that is pre-set on every printer in our offices and we print on eco-paper.

Recycling

We constantly work with our employees and suppliers on waste reduction. Currently, we recycle: paper, plastic, glass, batteries, lights and metal.

Transport

We recommend that our employees use alternative ways of transport when commuting to work or ton client visits. Our new building in Prague has a good level of facilities for cyclists which makes cycling to work easier. We also very often use car sharing.

More details about our activities can be found in our new CSR report*.