Conference centre to rent
Zobrazit stránku: Česky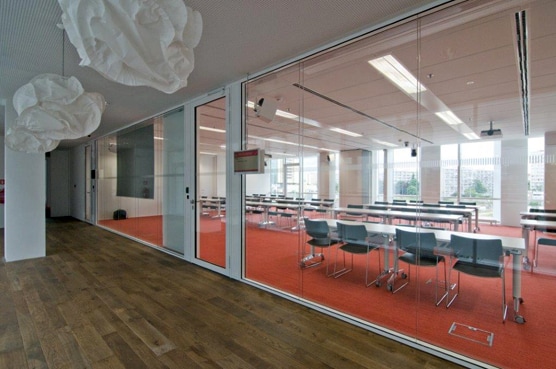 Our new meeting facilities with almost 1500 m2 of highly efficient office space will be used not only for PwC events, but we will also offer them to use for of our business partners, clients and other interested parties. Meeting facilities are designed in an attractive and airy way with natural light (curtain wall and atrium is made from glass).
The premises of the conference centre can hold large social events, informal club meetings, trainings, seminars and private meetings. There will be a total of 18 rooms, expandable to 22 by using of flexible moving walls, with a total capacity of over 400 seats.
large conference room with movable walls allowing it to be divided into 3 rooms (with a maximum capacity of 140 seats)
4 medium-sized training rooms with an average capacity of 30 seats
13 smaller meeting rooms for 5-16 persons
airy and bright space with a large atrium
cafe with a balcony and views of Central Park
spacious reception with library
videoconferencing equipment and modern audiovisual equipment
complete coverage of the wireless network WiFi
spacious and equipped with facilities (kitchen, cloakroom, utility room, work space for speakers)
professional service
A map of the Conference Centre may be found here (pdf 209 KB)
Room dimensions and capacities may be found here (pdf 57 KB)
Are you interested in booking our conference centre?
Contact Olga Kabíčková (+420 251 151 862, email) or Martina Houžvičková (+420 251 151 866, email).