After five years, it's time for CEOs to give up brooding on the crisis and fully concentrate on how to be successful in the new reality. The directors' answers show that they've already started. For the first time in the five-year history of the CEO Survey, all respondents showed at least some confidence that sales would be growing in 3 years. Over a 12-month horizon, 95% of respondents at least partly believe in growth.
 
Better reality
"The CEOs' responses don't radiate crisis any more but rather a healthy individual effort to get ahead. Yes, companies facing tougher competition must be more efficient and innovative, but many examples show that one can succeed. In addition, success in a challenging environment confirms the right business model and a healthy corporate culture that supports innovation and good ideas."
Jiří Moser Country Managing Partner, PwC Czech Republic
Finding new industries
"Organic growth is difficult and long term, so when expanding into new industries, companies often buy established players. Generally, they decide for acquisitions in a sector which will enable them to achieve interesting synergies. To reach them, careful analyses of strategies and business models of both companies are essential."
Miroslav Bratrych, Leading Partner, Advisory Services, PwC Czech Republic
New requirements for leadership
"There is significant importance in CEOs' mobility enabling them to gain experience and bringing them to a local environment. At the same time, they must be able to create an environment that motivates people to try new things. That also requires changes in the system of work and performance evaluation so that failure is not punished but taken as a lesson for the future."
Libor Stodola, Human Resource Management, PwC Czech Republic
Stability now and boom in 3 years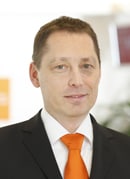 "Risk management is the only field where the parent companies make key decisions about their Czech subsidiaries, according to local CEOs. Two-fifths of respondents put more effort into it than in the past. If this reflects the whole Czech market, it's a good result. But from my own experience, I know that domestic enterprises themselves still underestimate risk management and concentrate on putting out fires, rather than preventing them."
Tomáš Kuča, Leading Partner, Risk Assurance Solutions, PwC Czech Republic
Together for a better business environment
"I see many opportunities for the new government to take further steps towards a more userfriendly tax system where citizens and companies willing to pay taxes are considered as good clients. Examples of such measures may be a call centre, methodological support and increased use of electronic communications and e-audits."
Peter Chrenko, Leading Partner, Tax and Legal Services, PwC Czech Republic
Safe bet
"Businesses are relying on the greater certainty of well-known markets. Our experience from collaborating with Czech companies shows that entering foreign markets is a crucial decision in the life of a company. Mastering the new business environment, a different tax or legal system and specific customer requirements poses a long-term investment—not just financial—which requires courage. The expected recovery of the global economy as well as the Czech one should encourage companies to take such a step into the unknown."
Věra Výtvarová, Leading Partner, Assurance Services, PwC Czech Republic
We'll be hiring, say CEOs
"The survey results confirm how crucial the right human resources planning is in the short and medium term. At the same time, the need to review prepared succession plans arises with respect to creating opportunities for internal promotions."
Libor Stodola, Human Resource Management, PwC Czech Republic
Instability – not a big concern
"Confidence that the economy will grow again is the first step to ensuring that companies have begun to re-invest and recruit. I believe that increasing optimism will gradually transform itself into an increase in demand, and thus into new orders."
Jiří Moser, Country Managing Partner, PwC Czech Republic
Processes, motivation and controls
"From the perspective of CEOs, the three biggest opportunities for innovation create a logical triangle: when processes don't work and when employee motivation fails, control mechanisms fail as well. The logical consequence is corruption - one of the three greatest business threats, according to CEOs."
Karel Půbal, Director, Public Sector Consulting Services, PwC Czech Republic
Different planning horizon
"Five years is a minimum, which can really show tangible results for major projects. The shorter planning horizon, rather preferred in the responses of Czech CEOs, reflects the fact that they have been focusing mainly on savings and greater efficiency. But it can also be due to a lack of vision and long-term strategies in Czech companies."
Petr Zmátlík, Director, Private Company Services, PwC Czech Republic