Innovation
Innovation is essential to staying relevant and competitive in the new economy. To do this and achieve profitable growth, leading companies are prioritizing innovation. When implemented as a business discipline tied to growth, the most innovative businesses are maturing twice as fast as their competition. Organizations that use a more structured approach to innovation and have a more diverse set of collaborators are able to harness a greater number of ideas and see them through to implementation. To be innovative, you need to engage everyone in the organization, challenge the norm, and take some acceptable risks to grow in the long-term.
| | |
| --- | --- |
| Innovation as a driver for growth | PwC's Innovation Blueprint |
| | |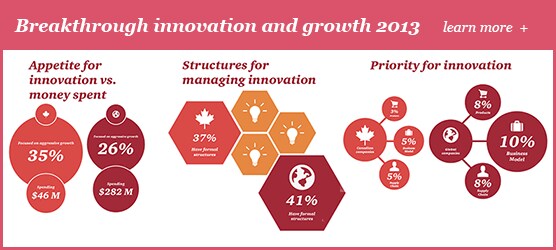 Make innovation real and sustainable
Our collaborative approach will help you design, develop and evaluate your innovation capability. Our extensive research, implementation experience, deep industry knowledge and proven methodologies, tools and experts will help you embed innovation into your organization now and in the future.
Establish a structure for success
Innovation needs to be managed as a business function, tied to business goals and strategy. Our global network of industry and competency experts will help you build an innovation capability by establishing a framework, defining roles and sharing best practices from outside your organization.
Develop leaders to instil a culture of innovation
To innovate successfully, organizations need a tolerance for risk and a willingness to fail. We'll work with you to equip your leaders with the skills necessary for driving innovation in your organization, nurture new ideas and bring the best ones to life. Our world class faculty will help you build a customized "Innovation Leadership Learning Experience" that delivers the individual and organizational performance improvements that align with your business and talent management objectives.
PwC Insights