What we do
Today's interconnected digital ecosystem means that managing the immediate and long-term impact of risks is a major concern for our clients. Our team in risk assurance helps our clients create proactive, preventative and holistic approaches to information risk. We bring a full range of expertise to address our clients' business challenges.
We recognize that to bring value to our clients, we need to provide the best advice about technological risk management. Our technology teams in risk assurance help clients navigate today's complex business and technology environment. We help them build trust and confidence in the technology they depend on to run their businesses.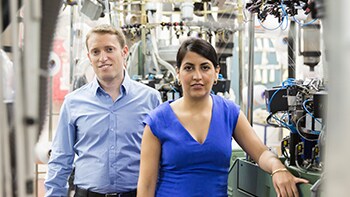 What you'll do
In Risk Assurance Services, you'll receive training and development and have an opportunity to grow your career for the future. You'll have the opportunity to drive your own career and gain exposure to several technology-focused areas within risk assurance, including solutions that address client needs in the following areas:
Data assurance: You'll help clients and audit teams handle and understand their data better by extracting actionable information, helping them analyze and visually report on it and make informed and trusted business decisions. You'll develop and implement customized, industry-based solutions, data CAATS (Computer Assisted Audit Techniques) and analytics, using a number of well-established tools, techniques and methodologies.
​Enterprise systems risks and controls: You'll learn skills relating to the impact of technology (and management's reliance on it) in the context of our clients' control environments. You'll start with foundational IT General Controls before delving into clients' core financial and operational business processes. You'll assist companies by reviewing and advising on the design and operational effectiveness of their controls, which allow them to get the best performance and value from their Enterprise Resource Planning (ERP) and other IT investments. You'll develop knowledge regarding leading ERP systems, such as SAP, Oracle, Microsoft and emerging systems such as Workday and Salesforce.
Cybersecurity and privacy: You'll go beyond the traditional control frameworks to help clients assess and mitigate the risks and threats to their information security. Taking an innovative approach, you'll review their current programs to identify gaps and assist clients, and design and implement solutions to strengthen their security posture.
Transformation Assurance: As our clients change and evolve through the implementation of new cloud based solutions, robotics and regulatory pressure, you will help them manage the technology and process risks associated with these changes.
As you grow within PwC, you'll have the opportunity to align yourself with one of these areas within the risk assurance services practice, based on your interests, capabilities and business need.
What we look for
Completion of a Science, Technology (including Computer Engineering, Information Systems/Security, Computer/Data Science, Business Analytics, BTM or MIS) Engineering or Math-related degree. A minor in a business-related degree would be considered an asset.
Strong grasp and passion for technology and the confidence to learn technical skills.
Strong written and verbal communication skills to articulate new ideas.
People who are authentic, resilient, inclusive and passionate.
Examples of building relationships which are genuine and rooted in trust.
Willingness to travel to client sites across Canada.
Eligibility to work in Canada as a Canadian citizen, Permanent Resident or Post-Grad Work Permit holder.