PricwaterhouseCoopers' has a team specialised in Advertising Contract Compliance and investigations, the team is comprised of professionals that are specifically dedicated to helping your company develop a pro-active approach to advertising contract compliance. We offer a unique mix of accounting knowledge, advertising experience and a global network that understands the issues.
Services and contractual charging regimes are often complicated, difficult to understand and lack transparency. This can lead to a lack of commercial control and a loss of value. We can help you get better value from contracts and transactions with advertising agencies.
We can help you with almost any kind of third party contracts, including:
Media campaigns, marketing and advertising;
Human resources;
Management contracts;
Real estate related contracts;
Event management contracts;
Contracts for the delivery of goods (supply chain and production, accessories, marketing and promotions, etc); and
Contracts for miscellaneous services (consultancy, recruitment and headhunting, call centres, retailing / detailing / merchandising, security, building management and services, logistics, car fleet, etc).

More about this service


Organisations increasingly rely on complex relationships with third parties. Getting value for money from these contracts is an ongoing challenge for most businesses, particularly in today's economic environment.

Potential issues

The expected benefits of your business relationship are not being realised
Your key stakeholders are worried about whether major contracts represent value to the business and risks are controlled effectively
You feel that, post contract, the advertising agency is seeking to maximise their margin
You are finding it difficult to create and sustain trust between you and your third parties
Functional protectionism means you are not getting the truth about cost from your third parties
Scope creep, delivery and quality failures, poor or perverse incentives, bad planning and demand management, ill-informed buying, deliberate contract manipulation and miscommunication can all be causes of value erosion.

How we can support you

We can help you get better value from contracts and transactions with third parties by:
Helping you to understand the real cost drivers and true cost implications of management decisions
Implementing effective contract deployment – you signed a great deal but is the business really getting the benefit?
Reviewing contract structures to ensure reward and pricing mechanisms fit the service or product and are driving the right behaviour
Simplifying by removing unreliable evidence, inadequate knowledge or unnecessary complexity that may hamper decision making
Billing compliance and invoice error recovery services
By understanding the commercial implications of your day-to-day transactions we can develop a clear picture of what is happening in your business, and how contracts and services are being operated.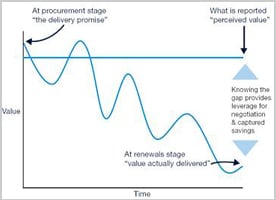 Our four-phase approach helps you understand and validate your value drivers through:
Value tracking - understand the real procurement decisions and drivers; determine and identify key elements of value; and assess contract strategy, charge regime and service congruity
Assessment of processes and decisions - commercial, operational and financial aspects
Spend audits - analytical review of invoices, job sheets, timesheets and source documents
Contract compliance - review of whether contract and billing terms are being complied with
We then identify where value is being lost and provide pragmatic advice on how to you can capture value and savings
We have experience performing the following services both locally and internationally:
On-site audits or reviews of your partner, focusing on contract compliance and the processes for monitoring compliance
Assistance with contract enforcement programs including best business practices; strategies for managing and monitoring; compliance programmes for advertising contracts and pricing agreements; and forensic-based advertising contracts examinations.
Dispute Resolution including negotiation, litigation, arbitration, damage calculations and expert witness testimony
Drafting of royalty and other financial provisions in agreements
Assessment of the policies and control procedures used to monitor your alliances along with recommended improvements.
Benefits realized by our clients:
Accurate payment of costs
Compliance to key terms
Fair contract interpretations
Better internal controls
Improved accountability and transparency
Minimized global business culture / foreign language misunderstandings
Improved business relations
Improved quality of future agreements